Union Pacific's Jacqueline White Receives 2008 Women of Color Award
Jacqueline White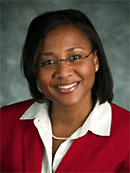 Omaha, Neb., April 07, 2008 – Union Pacific Railroad employee Jacqueline White, assistant vice president - Purchasing, was selected as a recipient of the 2008 University of Nebraska Women of Color Award for Business and Entrepreneurship.
White was selected for making significant contributions to Union Pacific Railroad by increasing the company's visibility within the Omaha community and her recruiting efforts at historically black colleges and universities.
White serves on the board of directors of Big Brothers Big Sisters of the Midlands. In this capacity, she is instrumental in fund development for such programs as Bowl for Kids Sake and is a driving force behind the development of the On Track Leadership Development Conference designed for high-potential Tuskegee University students. Through her dedication to diversity, White has effectively linked Union Pacific Railroad to Tuskegee by building partnerships that help to ensure Union Pacific becomes an employer of choice for people of color.
Prior to joining Union Pacific in 1994, White worked several years in finance for a Fortune 500-consumer and pet food manufacturer company. White is a graduate of Tuskegee University, where she earned her Bachelor of Science degree in Accounting and Saint Louis University where she earned her MBA. White resides in Bellevue with her husband, Ed, and their two sons.
About Union Pacific
Union Pacific Corporation owns one of America's leading transportation companies. Its principal operating company, Union Pacific Railroad, links 23 states in the western two-thirds of the country and serves the fastest-growing U.S. population centers. Union Pacific's diversified business mix includes Agricultural Products, Automotive, Chemicals, Energy, Industrial Products and Intermodal. The railroad offers competitive long-haul routes from all major West Coast and Gulf Coast ports to eastern gateways. Union Pacific connects with Canada's rail systems and is the only railroad serving all six major gateways to Mexico, making it North America's premier rail franchise.
For further information, contact James Barnes (402) 544-3560.