Safety
Union Pacific Railroad Converts Boxcar into Mobile Classroom for Emergency Responder Training
Omaha, Neb., October 29, 2014
Union Pacific, in collaboration with The Firefighters Education and Training Foundation, has converted a boxcar into a mobile classroom, expanding its fleet of training equipment used to educate emergency responders.
"We are excited about using the mobile classroom to support our extensive roster of first-responder training programs," said Bob Grimaila, Union Pacific vice president-Safety, Security and Environment. "This investment increases access to specialized hands-on training for firefighters and other emergency responders along our rail lines, and enables us to build more relationships with the leaders who help keep our communities safe."
Using the climate-controlled boxcar, Union Pacific will pair classroom education with first-hand rail operations observations to provide emergency responders an enhanced learning experience. The training will cover a variety of topics including how hazardous materials are shipped, tank car types and construction, and the railroad's protocol in the event of a derailment.
The mobile classroom also will be used in conjunction with Union Pacific's training tank cars to provide hands-on experience in assessing tank car damage, including making various on-site repairs, controlling releases from cars and teaching fire suppression techniques.
Union Pacific proactively reaches out to fire departments and other emergency responders to offer comprehensive training in communities where the railroad operates. The company annually trains approximately 2,500 local, state and federal first-responders on ways to minimize the impact of a potential derailment. In total, Union Pacific has trained nearly 38,000 public responders and almost 7,500 private responders (shippers and contractors) since 2003. This includes classroom and hands-on training.
First responders seeking more information about Union Pacific training are encouraged to contact a Manager of Hazardous Materials .
About Union Pacific
Union Pacific Railroad is the principal operating company of Union Pacific Corporation (NYSE: UNP). One of America's most recognized companies, Union Pacific Railroad connects 23 states in the western two-thirds of the country by rail, providing a critical link in the global supply chain. From 2004-2013, Union Pacific invested approximately $30 billion in its network and operations to support America's transportation infrastructure. The railroad's diversified business mix includes Agricultural Products, Automotive, Chemicals, Coal, Industrial Products and Intermodal. Union Pacific serves many of the fastest-growing U.S. population centers, operates from all major West Coast and Gulf Coast ports to eastern gateways, connects with Canada's rail systems and is the only railroad serving all six major Mexico gateways. Union Pacific provides value to its roughly 10,000 customers by delivering products in a safe, reliable, fuel-efficient and environmentally responsible manner.
About The Firefighters Education and Training Foundation
The Firefighters Education and Training Foundation is a nonprofit corporation based in West Springfield, Massachusetts. The foundation owns and operates more than 40 pieces of railroad equipment used throughout the country to train emergency responders along the nation's railroads.
Mobile Classroom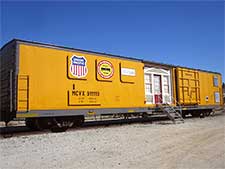 Exterior of Union Pacific's classroom boxcar unveiled in San Luis Obispo, California, on October 24, 2014.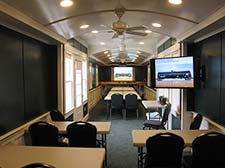 Interior of Union Pacific's classroom boxcar unveiled in San Luis Obispo, California, on October 24, 2014.