Union Pacific Railroad Reminds Photographers to Follow Safety Guidelines
Safety Resources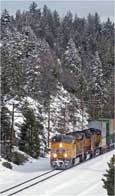 Omaha, Neb., December 06, 2011 – With snow beginning to accumulate in mountain areas, and soon across much of the north and northwestern part of the Union Pacific network, these locations become prime scenic and train photography locations. Union Pacific Railroad urges photographers to resist the temptation to take photographs of trains from railroad property.
"As part of our UP CARES initiative, we want to remind photographers that walking on or near railroad tracks is extremely dangerous because you never know when a train will come along," said Dale Bray, Union Pacific director – public safety. "We urge professional and amateur photographers alike to set the right example for others by adhering to the safety guidelines.
"It can take a mile or more to stop a train and by the time a locomotive engineer sees you on the track, it is too late."
Union Pacific urges photographers to read and understand the company's policy for photographers as they follow their passion or work.
Union Pacific is committed to public safety through various outreach channels such as community events, media outreach, law enforcement partnerships, employee resource groups and Operation Lifesaver. The UP CARES (Union Pacific Crossing Accident Reduction Education and Safety) public safety initiative brings together communities in a collaborative and caring effort to promote railroad grade crossing and pedestrian safety.
UP CARES activities include:
Grade crossing enforcement with local, county and state law enforcement agencies;
Safety trains that provide local officials a firsthand look at what locomotive engineers see daily while they operate trains through a community and
Communication blitzes that educate the community at events or media outreach.
Anyone choosing to walk on or near railroad tracks could face a tragic consequence. Last year, 442 people died and 388 were injured while trespassing on railroad property throughout the United States, according to the Federal Railroad Administration.
Do not become a statistic; stay off of railroad property when taking video or photographs of trains.
About Union Pacific
One of America's iconic companies, Union Pacific celebrates its 150th anniversary in 2012. Abraham Lincoln signed the Pacific Railway Act of July 1, 1862, creating the original Union Pacific. Today, Union Pacific Railroad is the principal operating company of Union Pacific Corporation (NYSE: UNP), linking 23 states in the western two-thirds of the country by rail and providing freight solutions and logistics expertise to the global supply chain. From 2000 through 2011, Union Pacific spent more than $31 billion on its network and operations, making needed investments in America's infrastructure and enhancing its ability to provide safe, reliable, fuel-efficient and environmentally responsible freight transportation. Union Pacific's diversified business mix includes Agricultural Products, Automotive, Chemicals, Energy, Industrial Products and Intermodal. The railroad serves many of the fastest-growing U.S. population centers and emphasizes excellent customer service. Union Pacific operates competitive routes from all major West Coast and Gulf Coast ports to eastern gateways, connects with Canada's rail systems and is the only railroad serving all six major Mexico gateways.
Media contact: Mark Davis, 402-544-5459 or mwdavis@up.com.
www.up.com
www.facebook.com/unionpacific
www.twitter.com/unionpacific