Union Pacific's Past Chairman and CEO John C. Kenefick Dies at Age 89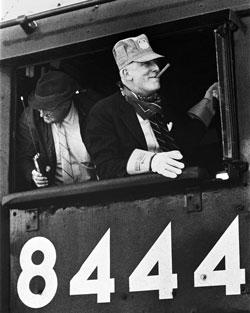 Retired UP Railroad Chairman John C. Kenefick in the cab of No. 8444.
Omaha, Neb., July 15, 2011 – John C. Kenefick, who died Friday, July 15, at age 89 was president of Union Pacific from 1971 to 1983 when he was named chairman and chief executive officer of Union Pacific Railroad. An industry giant, he guided the railroad with even temperament through stifling regulation and the threat of nationalization into a new age of health and competitive strength.
"Union Pacific is proud and privileged to have had John Kenefick at its helm," said Chairman Jim Young. "With great foresight, he strengthened our railroad and guided it through some of the most challenging times in our history. It is with great pride that we celebrate his memory and innumerable contributions to our company and community."
During Kenefick's tenure, Union Pacific's revenue swelled from $1 billion to $8 billion, and with his oversight of the 1982 Missouri Pacific and Western Pacific mergers, its size doubled. Kenefick supported financing in 1984 for a connector line with the Chicago & North Western, "Project Yellow," that gained the railroad access to Wyoming's Powder River Basin and the nation's largest coal deposit. His strategic guidance also paved the way for mergers with the Chicago & North Western and the Missouri-Kansas-Texas, which shortened Union Pacific's route from Kansas City to Fort Worth and on to the Gulf.
Born Dec. 26, 1921, in Buffalo, New York, the son of an attorney, like many young boys, Kenefick daydreamed about "railroading." However, it was his pragmatic nature that made reality of his ambitions.
Kenefick attended Princeton University, fulfilling his self-educated father's wishes, and narrowed his studies to mechanical engineering, forgoing history courses as World War II shortened his academic timeline. Graduating in 1943, he maintained a strong allegiance to the institution, acting later in life as a trustee emeritus and clerk of the board. Although he settled in the Midwestern town of Omaha, Neb., his license plate "P1943" illustrated the enduring connection he felt to the East Coast Ivy League school.
Following graduation, Kenefick served three years in the Navy during World War II, primarily in the Pacific, before beginning his railroad career with the New York Central as a Mechanical Department apprentice. Restless, he held the post a short six months before heading to Omaha in 1947 to join Union Pacific as a locomotive draftsman.
The westward move precipitated Kenefick's rapid climb through the industry's ranks. Making a concerted effort to learn firsthand how a railroad operates, he held assignments in various departments with Union Pacific, Denver & Rio Grande Western and, again, the New York Central before returning to the Union Pacific in 1968 as vice president-operations. He was promoted to executive vice president in 1969 and was elected chief executive officer of the transportation division in 1970.
Despite stifling regulation and the looming threat of nationalization, Kenefick led an aggressive upgrade of Union Pacific's network during the 1970s, promoting infrastructure investments that would keep pace with future operating needs. With the same "boots on the ground" approach he took to his education on the industry, Kenefick oversaw the work, traveling the railroad's entirety twice annually by train to inspect track, observe projects under way and express his appreciation to forces in the field.
Described as the linchpin for the post-1969 period in Union Pacific's history, Kenefick had an undeniable influence on the railroad and industry overall. He served six years on the Association of American Railroads board, beginning his term in 1980, the same year the Staggers Act passed partially deregulating the nation's railroads. After the Staggers Act was passed, Kenefick led the Union Pacific into a new and challenging era.
Kenefick retired after 40 years of service. Although his post-retirement presence at Union Pacific gradually decreased from six days a week to quarterly in the year prior to his death, his legacy lives on from the tunnels and tracks he commissioned to a park, business car and employee safety award named in his honor.
About Union Pacific
Union Pacific Corporation owns one of America's leading transportation companies. Its principal operating company, Union Pacific Railroad, links 23 states in the western two-thirds of the country. Union Pacific serves many of the fastest-growing U.S. population centers and provides Americans with a fuel-efficient, environmentally responsible and safe mode of freight transportation. Union Pacific's diversified business mix includes Agricultural Products, Automotive, Chemicals, Energy, Industrial Products and Intermodal. The railroad emphasizes excellent customer service and offers competitive routes from all major West Coast and Gulf Coast ports to eastern gateways. Union Pacific connects with Canada's rail systems and is the only railroad serving all six major gateways to Mexico, making it North America's premier rail franchise.
Contact: Donna Kush, 402-544-3753 or dmkush@up.com