Union Pacific Names Donna Kush Assistant Vice President of Corporate Communications
Donna Kush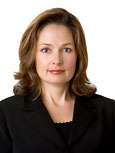 Omaha, Neb., June 17, 2008 – Union Pacific has named Donna Kush assistant vice president of Corporate Communications. Kush will head the railroad's employee communications, public relations and advertising efforts across its 23-state operating network.
Kush brings more than 17 years of corporate marketing and communications experience to Union Pacific. Prior to joining the railroad, she was president of her own consulting firm, advising financial expert and author Suze Orman and other clients across the financial services, health care, fitness and service industries. She also has served as chief of Communications and Public Affairs, and manager of Offline Advertising for TD Ameritrade; and as manager of Marketing and Communications for the University of Nebraska Medical Center.
An active member of many community organizations, Kush has served on the boards of directors for the American Red Cross and JDRF, and served on committees and volunteered for the March of Dimes, Women's Fund of Greater Omaha and Girls Inc. She holds a master's degree in journalism and mass communications from the University of Nebraska-Lincoln.
About Union Pacific
Union Pacific Corporation owns one of America's leading transportation companies. Its principal operating company, Union Pacific Railroad, links 23 states in the western two-thirds of the country and serves the fastest-growing U.S. population centers. Union Pacific's diversified business mix includes Agricultural Products, Automotive, Chemicals, Energy, Industrial Products and Intermodal. The railroad offers competitive long-haul routes from all major West Coast and Gulf Coast ports to eastern gateways. Union Pacific connects with Canada's rail systems and is the only railroad serving all six major gateways to Mexico, making it North America's premier rail franchise.
For further information, contact Mark Davis at (402) 544-5459.