Union Pacific's Diane Duren Named One of PINK Magazine's Top Women in Business for 2008
Omaha, Neb., February 14, 2008 – Union Pacific Railroad today announced that Diane Duren, vice president and general manager – Chemicals, is being honored as one of the Top 15 Women in Business by PINK magazine, the national magazine for professional women. PINK's exclusive list in the March/April issue profiles the most influential women driving innovation and revenue in corporate America.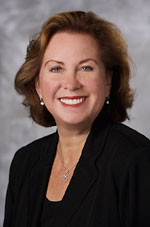 Diane Duren, vice president and general manager - Chemicals
"We scoured the upper echelons of corporate America to find the most significant women driving innovation in the U.S. – and adding major dollars to the bottom line in the process," says Cynthia Good, founding editor of PINK. "These 15 women will soon claim the national spotlight, having birthed new generations of products and services – creating and sustaining change that continues to transform their organizations."
Duren is being honored by PINK for her vision in creating the Express Lane food products train during her tenure as vice president and general manager, Agriculture Products for the nation's largest railroad. This reflected a huge market opportunity that had long been abandoned by the railroads. Following that was the introduction of Union Pacific's perishable unit train – taking a full trainload of perishables from Washington State to New York. It was also during her role leading the Agriculture Products group that Union Pacific engaged the emerging ethanol opportunity helping the company proactively build the network to support ethanol rail delivery.
Today, Duren oversees Union Pacific's marketing and sales activities for chemical and petroleum industries. During her career, she has held a variety of positions in the finance and marketing and sales departments with Union Pacific since joining the company in 1985.
Duren is a graduate of Creighton University in Omaha, where she earned her bachelor's degree in business administration with a major in accounting. She began her career as a certified public accountant with Deloitte, Haskins & Sells in Omaha. Duren resides in Omaha with her husband Drew Collier and their four sons.
About Union Pacific
Union Pacific Corporation owns one of America's leading transportation companies. Its principal operating company, Union Pacific Railroad, links 23 states in the western two-thirds of the country and serves the fastest-growing U.S. population centers. Union Pacific's diversified business mix includes Agricultural Products, Automotive, Chemicals, Energy, Industrial Products and Intermodal. The railroad offers competitive long-haul routes from all major West Coast and Gulf Coast ports to eastern gateways. Union Pacific connects with Canada's rail systems and is the only railroad serving all six major gateways to Mexico, making it North America's premier rail franchise.
About PINK
PINK magazine features a new generation of America's most influential women, redefining success in the 21st century. Published seven times in 2008, PINK offers editorial content from award-winning writers and columnists in the national magazine for professional women. Visit pinkmagazine.com for more information.
For more information, contact:
James Barnes, Union Pacific, at (402) 544-3560, or
Billie Rampley, PINK magazine, at (404) 601-3504.