Union Pacific Announces Heritage Series Locomotives
Missouri Pacific and Western Pacific Locomotives Unveiled
Heritage Locomotives

Missouri Pacific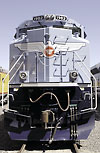 Western Pacific


Omaha, Neb., July 30, 2005 – Union Pacific Chairman and CEO Dick Davidson today unveiled an unprecedented new Heritage series of locomotives that will honor the people and the railroads that have made the company what it is today. Each locomotive will feature a unique paint scheme, incorporating elements of one of the six major railroads that have merged with Union Pacific.
"It is important that we take an historical perspective of who we are and how we got here," Davidson said. "Our reputation as America's greatest railroad has been strengthened by the many lines that have become a part of the UP. It is time we pay homage to those railroads and the generations of men and women who helped to build a great nation and the foundation for our future."
The first two locomotives in the series were revealed Saturday in Omaha. The locomotives, which pay tribute to the men and women of Missouri Pacific and Western Pacific, will operate across the UP system.
The Missouri Pacific and Western Pacific locomotives will be followed in coming months by locomotives painted in the style of the Missouri-Kansas-Texas (Katy), Chicago & North Western, Southern Pacific, and Denver & Rio Grande.
Through the years, a series of mergers helped Union Pacific create the strongest rail franchise in North America. The addition of Missouri Pacific more than doubled UP's route miles, Western Pacific track led UP to the Ports of San Francisco and Oakland, Katy gave UP access to Texas through Oklahoma, Chicago & North Western brought UP to the Windy City, and Southern Pacific and Denver & Rio Grande Western provided the famous Sunset Route and a direct route through Colorado.
"Thousands of Union Pacific employees will soon reach retirement age and to continue to meet our service demands, thousands of new employees will be hired to take their place," Davidson said. "We want to instill in these new employees the importance of UP's rich history and the major role each of these railroads played."
The Heritage Series marks the fifth time in company history that Union Pacific has painted locomotives in colors other than the traditional UP "Armour Yellow" paint scheme. Previously, locomotives were custom made in 1991 to honor UP employees serving in the Persian Gulf War, in 1994 to call attention to the United Way Campaign, in 1996 for the Atlanta Games Olympic Torch Relay Train, and in 2002 for the Salt Lake City Games Olympic Torch Relay Train.
Union Pacific Corporation owns one of America's leading transportation companies. Its principal operating company, Union Pacific Railroad, links 23 states in the western two-thirds of the country and serves the fastest-growing U.S. population centers. Union Pacific's diversified business mix includes Agricultural Products, Automotive, Chemicals, Energy, Industrial Products and Intermodal. The railroad offers competitive long-haul routes from all major West Coast and Gulf Coast ports to eastern gateways. Union Pacific connects with Canada's rail systems and is the only railroad serving all six major gateways to Mexico, making it North America's premier rail franchise.
For more information, contact Gene Hinkle at (402) 514-9406 or (402) 880-8052.