With Malice Toward None: The Abraham Lincoln Bicentennial Exhibition
October 10, 2009 - December 19, 2009 at Chicago's Newberry Library
Union Pacific Celebrates Lincoln
Media Kit


Includes high-resolution version of poster.
Lincoln Poster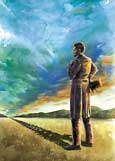 Chicago, Ill., August 27, 2009 – With Malice Toward None: The Abraham Lincoln Bicentennial Exhibition, an exhibition created by the Library of Congress, will open at the Newberry Library on October 10, 2009, in commemoration of the 200th birthday of America's 16th president. The exhibition offers the public the opportunity to view rarely seen treasures from the Library of Congress's collections.
With Malice Toward None charts Lincoln's growth from prairie lawyer to preeminent statesman and addresses the monumental issues he faced, including slavery and race, the dissolution of the Union, and the Civil War. The exhibit reveals Lincoln the man, whose thoughts, words, and actions were deeply affected by personal experiences and pivotal historic events. By placing Lincoln's words in a historical context, the exhibition gives visitors a deeper understanding of how remarkable Lincoln's decisions were for their time and why his words continue to resonate today.
The exhibit marks the greatest assemblage of objects from the Library of Congress's Lincoln collections in history. It will include letters, photographs, political cartoons, period engravings, speeches, and artifacts. The actual grammar book studied by Lincoln in his effort to master English, the notes he prepared in advance of his debates with Senator Stephen Douglas, and the personal scrapbook he assembled of newspaper clippings of the debates bring this iconic figure to life. Other items will include campaign and election ephemera and such treasures as a facsimile of an autobiography which Lincoln supplied to admiring biographers, his penciled "Farewell Address" as he boarded the train from Springfield, Ill., his first and second Inaugural Addresses, the Bible upon which he took the oath of office on March 4, 1861 (the same one used by President Obama in 2009), his unforgettable Gettysburg Address and a rare lithograph of a final draft of the Emancipation Proclamation. Military enthusiasts will have the opportunity to see the highly critical letter Lincoln wrote but never sent to Gen. George Meade following the Battle of Gettysburg, the signed commission of Gen. Ulysses S. Grant as Lieutenant General, and the letter of thanks to Gen. William T. Sherman for the capture of Savannah, Ga.
The exhibition will include the Lincoln family Bible, a caned chair from the Lincoln and Herndon Law Office on loan from the Union Pacific Railroad Museum, and the contents of Lincoln's pockets on the night he was assassinated. Aspiring poets will enjoy Lincoln's early attempts at this difficult art form, as well as Walt Whitman's Civil War diary and verse.
This major exhibition premiered at the Library of Congress on February 12, 2009. After the exhibition closes in Chicago, it will travel to the Indiana State Museum in Indianapolis (winter/spring 2010); the Atlanta History Center in Atlanta (fall 2010); and The Durham Museum in Omaha, Neb. (winter 2011).
With Malice Toward None: The Abraham Lincoln Bicentennial Exhibition and its national tour are made possible by the generous support of Union Pacific Corporation. The Newberry installation of this exhibition is sponsored by Mr. and Mrs. Gerald F. Fitzgerald, Sr.

Exhibition Hours:
The Newberry Library
60 West Walton St.
Chicago, Ill. 60610
The Exhibit Gallery is free and open to the public, Monday through Saturday.
Monday, Friday, and Saturday
8:15 am - 5:00 pm
Tuesday, Wednesday, and Thursday
8:15 am - 7:30 pm
Closed Sundays and certain holidays. Please visit www.newbery.org/general/hours.html for exact dates.
About the Newberry Library
The Newberry Library provides a home to a world-class collection of books, manuscripts, and maps, and also to a growing community of readers. Our collections, spanning many centuries, feature a wide range of materials, from illuminated medieval manuscripts to rich genealogical resources, and from early printed books to the personal papers of Midwest authors. The Newberry offers highly acclaimed programs for serious readers: fellowships for scholars, seminars for undergraduates, professional development activities for teachers, and a variety of adult education seminars, public lectures, and workshops. Visit us online at www.newberry.org or in person at 60 W. Walton St., Chicago, IL.
About Union Pacific
Union Pacific Corporation owns one of America's leading transportation companies. Its principal operating company, Union Pacific Railroad, links 23 states in the western two-thirds of the country. Union Pacific serves many of the fastest-growing U.S. population centers and provides Americans with a fuel-efficient, environmentally responsible and safe mode of freight transportation. Union Pacific's diversified business mix includes Agricultural Products, Automotive, Chemicals, Energy, Industrial Products and Intermodal. The railroad emphasizes excellent customer service and offers competitive routes from all major West Coast and Gulf Coast ports to eastern gateways. Union Pacific connects with Canada's rail systems and is the only railroad serving all six major gateways to Mexico, making it North America's premier rail franchise.
Contacts: Newberry Library - Heather Malec, 312-255-3625
Union Pacific Railroad - Mark Davis, 402-544-5459