Union Pacific Thanks Employees, Sacramento First Responders and Residents for Recovery Efforts at Ceremony
1,400-ft. Approach to Bridge Totally Rebuilt in 15 ½ Days After Fire
Sacramento Bridge East Approach Rebuilding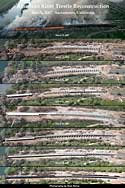 Omaha, Neb., April 3, 2007 – Union Pacific today thanked dozens of local, State and Federal agencies and private contractors who enabled the company's employees to rebuild a 1,400-ft. bridge approach destroyed by fire on March 15. The bridge reopened to freight and passenger train traffic over the weekend.
In a ceremony beside the new concrete and steel trestle, Dennis J. Duffy the company's executive vice president-operations said that the results clearly show what can happen when a community focuses its efforts on a critical need. "I want to thank Union Pacific's employees, our contractors and the hundreds of professionals at the many agencies who worked together – many of them around the clock – to restore this vital transportation link. It has been an impressive effort." He especially recognized the two Sacramento fire departments, as well as residents in the area near the bridge, for their patience during rebuilding.
In recognition of firefighters' efforts, Duffy presented the Sacramento Fire Department and Sacramento Metropolitan Fire District with equipment certificates. Union Pacific is ordering equipment that both departments felt would assist them with their operations. Equipment being ordered includes:
Sacramento Fire Department – ten dry suits for the fire/rescue boat crew members and two marine search lights to assist with night operations.
Sacramento Metropolitan Fire District – six safety packs, each of which includes: a 2007-compliant air pack, a 60-minute air bottle with regulator, a rescue sled, a search and rescue bag that contains 225 feet of rope and necessary hardware and a flat-head axe.
Duffy also presented $4,000 grants to each of the River Park, East Sacramento, McKinley and Woodlake Homeowner Associations. The neighborhoods are located near the bridge and the residents showed great patience and understanding during the round-the-clock rebuilding of the trestle.
The nearly 50 trains a day that operate on this line were detoured over other Union Pacific routes. The main detour was more than 90-miles that took trains from downtown Sacramento, north to Marysville, then south to reconnect with the main east/west line just east of Roseville, Calif. Since the reopening of the bridge, trains are now operating back on their normal routes.
Union Pacific once again expresses its appreciation to:
First Responders

Sacramento Fire Department
Sacramento Police Department
Sacramento Metropolitan Fire District
West Sacramento Fire Department
Sacramento Regional Fire/EMS Communications Center
California Highway Patrol
California Governor's Office of Emergency Services
The Cosumnes River Community Services District

Other State, County and City Agencies

Office of California Governor Arnold Schwarzenegger
California State Fish and Game Department
California EPA
California Department of Water Resources
California Department of Transportation
California Public Utilities Commission
Sacramento County Public Health Department
Sacramento Air Quality Management District
City of Sacramento

Residents and businesses close to the site who may have been inconvenienced by construction of the new trestle
U. S. Army Corps of Engineers
Amtrak and Capitol Corridor and their passengers
Utilities – Pacific Gas and Electric Company, Western Area Power Administration and Sacramento Municipal Utility District
Cal Expo
Union Pacific Employees. Special thanks to operating, engineering and Maintenance of Way employees for their dedication and hard work.
About Union Pacific
Union Pacific Corporation owns one of America's leading transportation companies. Its principal operating company, Union Pacific Railroad, links 23 states in the western two-thirds of the country and serves the fastest-growing U.S. population centers. Union Pacific's diversified business mix includes Agricultural Products, Automotive, Chemicals, Energy, Industrial Products and Intermodal. The railroad offers competitive long-haul routes from all major West Coast and Gulf Coast ports to eastern gateways. Union Pacific connects with Canada's rail systems and is the only railroad serving all six major gateways to Mexico, making it North America's premier rail franchise.
For further information, contact Mark Davis at (402) 544-5459.