August 1, 2011
Letter from Jack Koraleski
To our customers:
As we move into the Second Half of 2011, I wanted to provide a quick update on our business and the weather-related operating challenges we are facing in some areas across our system.
While the economy was not as strong as originally anticipated during the first half of 2011, our volume was up 4% from the same period last year, with each of our six businesses experiencing growth. Looking ahead, we anticipate stronger growth in the second half if the economy stays with us.
As we prepare for that growth and the upcoming peak season, we remain focused on providing excellent service for our customers. As carloads grew during the first half, our Service Delivery Index - a composite measure of our performance against customer commitments - remained strong at 88. Industry Spot & Pull - which measures our performance between a customer's facility and our local serving yard - is at a best-ever level. Our velocity has also stayed strong, averaging just over 26 miles per hour through the first six months. This performance was achieved despite some significant challenges from the weather.
Midwest Flooding
Record snowmelt from the Rockies and Northern Plains combined with significantly above normal June rainfall in the Midwest to generate wide-spread flooding along the Missouri and Platte Rivers. Despite the massive flooding, most of our main lines are still operating at near-normal levels, thanks to the heroic efforts of our operating and engineering personnel. Their efforts preserved our critical main line track from North Platte through Omaha by raising the level of track and bridges five feet or more and building protective berms, with the assistance of the National Guard and other state and local agencies.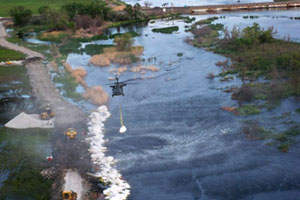 Helicopters deliver sand bags to shore levee breach near Union Pacific main line track along the Platte River, east of North Platte, Neb.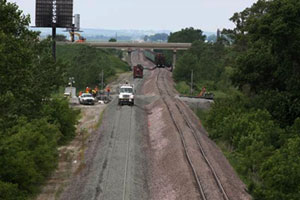 Union Pacific engineering crews work to raise main line track levels in flood threat areas.
Unfortunately, despite similar efforts along our system to the south of Omaha, we lost our direct route between Omaha and Kansas City and one of two routes between Kansas City and Jefferson City, Missouri. We are managing through these outages by employing surge resources and routing trains on alternative routes.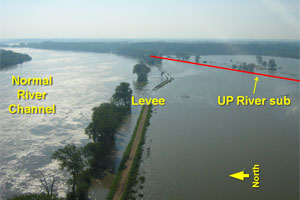 Flood-impacted area along River Subdivision between Kansas City and Jefferson City, Mo.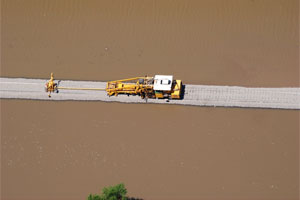 Union Pacific crews work to raise track on the Falls City Subdivision between Atchison and Leavenworth, Kan.
As water levels have started to recede along these routes, engineering work is underway to restore track conditions. Last week we started running a few trains each day across both of these routes, with speed restrictions, and an engineering curfew is in place as crews continue repairs. As conditions continue to permit, we anticipate a slow return to normal operations over both of these routes, assuming no significant additional flooding or rain events.
The relative strength of our service and network performance during these challenges demonstrates that our effort over the past several years to strengthen our resiliency and recoverability in the face of major weather disruptions is delivering benefits.
Texas Heat and Drought Conditions
On the other end of the weather spectrum, severe heat and drought conditions have compromised our track structure across central Texas this summer. The extreme dry conditions have caused the clay-based soil to crack, literally swallowing up ballast along our tracks. As the number of these incidents has grown along many of our key routes through the state, the resulting instability of the track structure has led to a 50% increase in the number of miles of slow orders and speed restrictions across the area. Speed restrictions reduce capacity as engineering work is performed to improve the track and put a strain on equipment and crew availability. The continued impact of the weather conditions, combined with our regularly-scheduled maintenance program this summer and stronger than anticipated business growth in the area have all contributed to service levels that are falling short of the performance standards our team works to achieve for our customers.
To restore performance levels, aggressive efforts are underway to address each of the underlying causes of the service issues in Texas:
Compromised Track Conditions and Slow Orders

We have deployed additional engineering resources to the area to make necessary repairs. We're already seeing results from those efforts, but quite honestly, improved conditions will ultimately depend on the weather. If the area gets a moderate amount of rainfall over the next few weeks, we anticipate we'll see improvement by mid- to late-August. If the severe drought continues, we most likely won't see significant improvements until sometime in September.
Maintenance
Scheduled maintenance projects are an investment in the future and our ability to provide excellent service for our customers. As we work toward the goal of increasing velocity for the safe and efficient movement of customer shipments, some temporary delays are, unfortunately, necessary. On the good news side, one of the major projects to increase velocity in and around the Fort Worth area will be completed in about two weeks. We are also reviewing projects for the remainder of this year and 2012 to balance the work and minimize the impact on our customers' shipments.

Handling Strong Volumes
We have adjusted our transportation plan, prioritized resources, and added local industry support jobs to better handle increased volumes across the area. We have also advanced some capital improvements into this year, including a rehab of both our Fort Worth Terminal and Big Springs yards to enhance service performance for customers.
We appreciate your continued support as we work through these challenges. Like you, we want to see velocity restored and we're committed to doing that as quickly as it can safely be done. While we're working to make that happen, your Union Pacific representative will keep you updated on our progress so you can make any needed adjustments to ensure your product continues to move efficiently to market. If there's anything more we could be doing to help you, please don't hesitate to contact us.
The entire Union Pacific team is working to continuously strengthen the value proposition we offer you. We are absolutely committed to restoring service in these weather-impacted areas to the levels you've come to expect from us.

Union Pacific
Executive Vice President, Marketing & Sales