June 7, 2011
Letter from Jack Koraleski
To our customers:
As you are probably aware from recent news reports, the Midwest has been hit hard this season by heavy rainfall and flooding across many areas. As water levels have continued to rise, the U.S. Army Corps of Engineers is increasing releases from the six dams on the Missouri River to drain water from rains and seasonal snow melt in eastern Montana, Wyoming, western North Dakota and South Dakota over the past several weeks. Flooding conditions are anticipated to affect communities along the Missouri River between Sioux City, Iowa and the Omaha/Council Bluffs area and beyond to St. Louis, Missouri over the next several weeks, or even months. Flooding along the Platte River, which runs adjacent to Union Pacific's main line across western Nebraska to the Missouri River, is also a threat.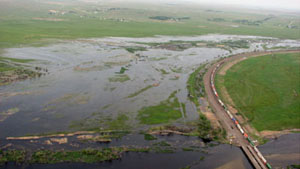 Bridge Over the Platte River, East of North Platte, Nebraska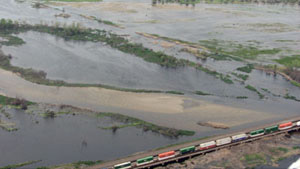 East of North Platte, Nebraska
At this point, none of Union Pacific's main line track is out of service, and we hope to be able to stay ahead of the flood water. We are working closely with local municipalities and the Corps of Engineers to stay abreast of planning efforts that may affect Union Pacific operations and customer industries in these areas in the coming weeks. While the exact impact of the flooding remains unknown, Union Pacific is developing operating contingency plans based on a number of potential scenarios.
In areas where flooding conditions are imminent, operations personnel are taking precautionary action to protect Union Pacific and customer equipment, as well as infrastructure. Crews are working around the clock to raise the Union Pacific track level and bridges in key areas, including along the Blair subdivision north of Omaha, to protect operations along the east-west route between North Platte, Nebraska and Chicago. Just east of North Platte, crews are working to raise the east-west main line track level and coordinating with the National Guard to redirect water away from the track, positioning 1,000 lb. sand bags via helicopter to shore up breaches in the dike along the Platte River.
Our National Customer Service Center personnel are actively working with customers and field operations to assess the impact on customer industries in the affected areas and where possible, assist customers in providing service that matches their own contingency plans. We'll continue to evaluate the use of embargoes to regulate traffic destined to customer facilities in impacted areas.
Additional flooding risk is being assessed for our main lines between Omaha and Kansas City, Kansas City and Jefferson City, MO, and Jefferson City, MO and St. Louis. Once we determine the potential risk to our route structure in these areas, we will mitigate and plan contingencies.
We appreciate your cooperation as we work through the potential impact of the flooding on our operations. We will continue to post updates on changing conditions on our website.

Union Pacific
Executive Vice President, Marketing & Sales