UNION PACIFIC IS PROUD TO CELEBRATE THE LEGACY OF ABRAHAM LINCOLN.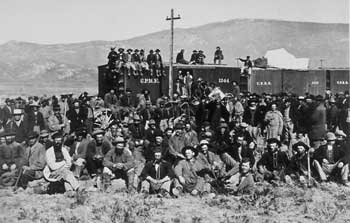 Our Celebration
In a way, Lincoln's birthday feels like our own.
When your company's first task is to unite a continent – when you can count Abraham Lincoln himself as a founding father – it gives you such purpose. Such intrinsic pride.
At Union Pacific, we credit much of our success to our unique history, a history that began with Lincoln and the nation's first transcontinental railroad. We're so pleased to commemorate the bicentennial of Lincoln's birth and honored to be part of his living legacy, we plan to celebrate all year long.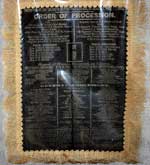 View Larger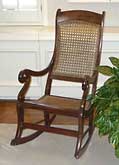 View Larger
Photo left: President Lincoln's Funeral – Reception of the Remains of President Lincoln at Chicago, Illinois, May 1, 1865. The silk provides the "Order of Procession" and lists the people and their duties at the funeral procession.
Photo right: When the Lincoln family left Springfield for Washington, they sold their house and many of their possessions. This rocking chair, used by Lincoln in his Springfield law office, was purchased at Lincoln's sale by a Springfield family.
Our birthday gift.
The highlight of Union Pacific's celebration was our collaboration with the Library of Congress. We sponsored "With Malice Toward None: The Abraham Lincoln Bicentennial Exhibition," a rare opportunity for the public to view artifacts from Lincoln's life and administration.
The exhibit revealed Lincoln, the man whose thoughts, words and actions were deeply affected by personal experiences and pivotal historic events. By placing Lincoln's words in a historical context, visitors gained a deeper understanding of how remarkable Lincoln's decisions were for their time and why his words continue to resonate today.
As part of the celebration, Union Pacific loaned to the exhibit a rocking chair from Lincoln's office and a silk banner from his funeral procession from the Union Pacific Railroad Museum in Council Bluffs, Iowa
Visit the Library of Congress website to find out more about "With Malice Toward None: The Abraham Lincoln Bicentennial Exhibition."