UNION PACIFIC IS PROUD TO CELEBRATE THE LEGACY OF ABRAHAM LINCOLN.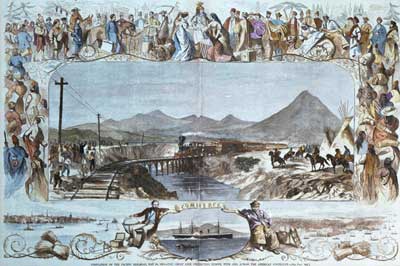 A Nation Transformed
The impact of the Transcontinental Railroad.
President Lincoln would never see the completion of the transcontinental railroad, but perhaps he foresaw how it would change us. How it would draw Americans together – by trade, by travel and even by thought.
Days after the driving of the Golden Spike, the first passenger service began. Travel between San Francisco and New York City – once a months-long, perilous journey – now took less than a week.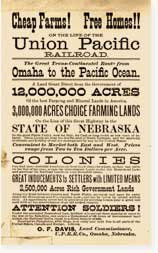 For settlers along the railroad's path, the tracks were a lifeline. More than 7,000 cities and towns west of the Missouri began as Union Pacific depots and water stops.
Trade flourished between the two coasts and beyond; the first freight train to head east from California carried Japanese tea. By 1880, about $50 million worth of freight traveled the rails each year.
But none of these changes were as dramatic as the railroad's effect on American culture. The transcontinental railroad captured the country's imagination. Driving that Golden Spike was as exciting as putting a man on the moon. And once the railroad was complete, it changed the way Americans thought about themselves and each other.
Trains carried ideas as efficiently as freight. With books, newspapers and people criss-crossing the continent daily, Americans in every corner of the country could participate in the same national conversation.