UNION PACIFIC IS PROUD TO CELEBRATE THE LEGACY OF ABRAHAM LINCOLN.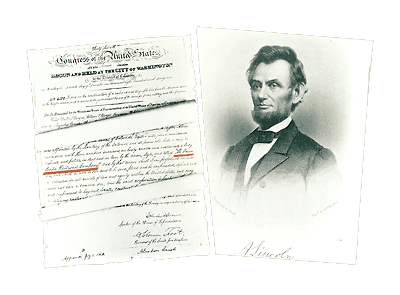 Lincoln and Union Pacific
Our proudest ties.
On July 1, 1862, after decades of debate and disagreement on the matter, Lincoln brought the transcontinental railroad to life with a stroke of his pen.
And with that same stroke, he created Union Pacific.
The Pacific Railway Act of 1862 gave the work of building the railroad to two companies: Central Pacific, an existing California railroad, and a new railroad chartered by the Act itself – Union Pacific.
Central Pacific would start at the Pacific and head east, and Union Pacific would start in the middle of the country, the beginning of the frontier, and head west. What path Union Pacific should take was a matter of much contention. Lawmakers already realized the impact the railroad could have on local economies and wanted the business for their own states.
Even before he became president, Lincoln, a railroad attorney, had an avid interest in the Pacific route. On a visit to Iowa in 1859, he met with Grenville Dodge, who would one day become Union Pacific's chief engineer.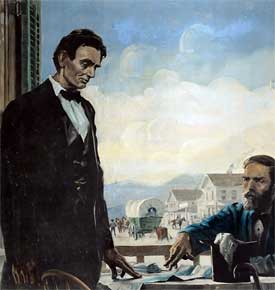 Dodge later wrote in his "Personal Recollections of Lincoln":
"Mr. Lincoln sat down beside me and, by his kindly ways, soon drew from me all I knew of the country west and the results of my reconnaissances. As the saying is, he completely 'shelled my woods,' getting all the secrets that were later to go to my employers."
Lincoln remembered Dodge's expertise and summoned the engineer to Washington in 1863 to discuss a starting point for Union Pacific. Dodge was adamant: the railroad must follow the Platte Valley and begin at Omaha-Council Bluffs.
On November 17, two days before the Gettysburg Address, Lincoln issued an executive order setting the railroad's eastern terminus exactly where Dodge had advised.
Union Pacific broke ground in Omaha in December 1863. Unfortunately, due to many delays, the first rails wouldn't be laid until July 1865, three months after the president's death.