UNION PACIFIC IS PROUD TO CELEBRATE THE LEGACY OF ABRAHAM LINCOLN.
Living His Legacy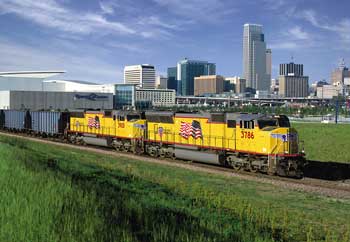 Supporting the Nation
The backbone of the American economy.
Like so much of Lincoln's legacy, our railroad is still a vital part of American life. Nearly everything that families and businesses depend on – every raw material and every finished good – travels on our trains.
We deliver fresh and frozen foods; grain for bread, beverages and livestock feed; automobiles and parts; chemicals for almost every industry; products ranging from paper to appliances to military equipment; coal for power plants; lumber for homes; and much, much more.
In fact, virtually everything you come into contact with or consume today probably spent some time, in some form, on a Union Pacific train.