UNION PACIFIC IS PROUD TO CELEBRATE THE LEGACY OF ABRAHAM LINCOLN.
Living His Legacy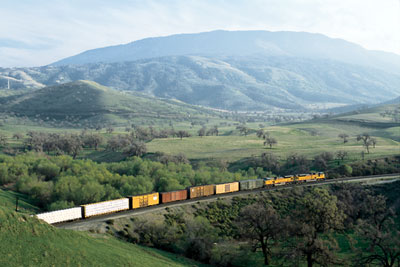 Supporting the Future
A greener way to ship.
Having played such an important role in our country's past, we feel a special obligation to its future.
Rail is already one of the nation's greenest ways to move freight; one intermodal train can take 280 trucks off congested highways. And Union Pacific has the cleanest locomotive fleet of any North American railroad.
Our mission now is to become even cleaner, even greener.
We're making major progress. In just one year, Union Pacific's innovations and improvements saved more than 21 million gallons of diesel fuel.
Learn more about Union Pacific's environmental efforts.