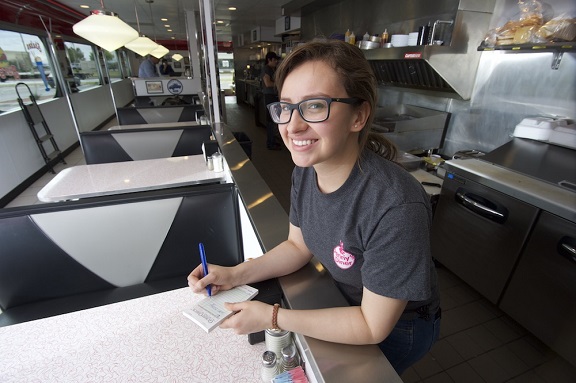 Forget Disneyland: I'm Going to Santa Teresa
Posted May 12, 2015 1:48 p.m. CDT
Like an oasis among the warehouses that crowd the dusty streets of Santa Teresa, New Mexico, sits Penny's Diner. The tiny restaurant, right next door to the Oak Tree Inn, was designed to look like a relic out of the '50s, though it opened just over a year ago.
Inside, a waitress is busy hustling tables amid the crowded pleather booths and shiny Formica counters, while a fry cook mans a hot flat-top griddle sizzling with eggs and sausage for the morning crowd. Penny's assistant manager Irma Alvarez, who also runs the hotel, says the restaurant serves breakfast 24 hours a day, but that the house specialty and customer favorite is still the Monster Burger, which comes with an egg and double meat patties.
"Our burgers are really popular here," Alvarez said. "As are the shakes."
Business is brisk. The restaurant's patrons are mostly Union Pacific railroad employees who work at the nearby Santa Teresa Fueling Facility and Intermodal Terminal. In fact, the restaurant and the hotel originally were built to meet their lodging and dining needs. But lately the clientele has become more diverse.
Read More