Union Pacific Railroad Genset Ultra-Low-Emissions Rail Yard Locomotive Fast Facts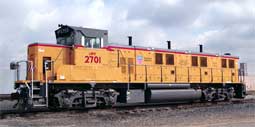 Union Pacific owns 159 four-traction motor Genset locomotives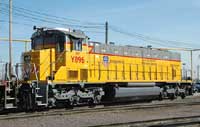 And four six-traction motor models of these ultra-low emission switcher locomotives
Union Pacific began to study and concept-test a design of a Genset switcher locomotive in 2002.
Performance testing of a prototype Genset locomotive began on December 5, 2005, at Union Pacific's Proviso rail yard in Chicago, Ill. The prototype locomotive was moved to Los Angeles, Calif., in February 1, 2006, to continue performance testing and it continues to work at Union Pacific's Long Beach rail yard.
The prototype Genset locomotive is powered by two 700-horsepower ultra-low- emissions off-road diesel engines that are connected to electric generators, thus the name "Generator-Set," or "Genset" switcher. The generators supply electricity to four electric motors that turn axles to which the wheels are attached.
Union Pacific has 159 of the ultra-low-emission locomotives equipped with three ultra-low-emissions U. S. Environmental Protection Agency off-road Tier 3-certified diesel engines working in California and Texas. Four of the latest version of the Genset switcher locomotives will work at UP's J. R. Davis rail yard in Roseville, Calif. The latest models have six traction motors compared to four on the 159 Genset switchers. The additional traction motors provide increased power to push rail cars over the Davis Yard incline where they are then sorted into different tracks assigned to their next destination.
The Genset yard switcher reduces emissions of nitrous oxides by 80 percent and particulate matter by 90 percent, while using as much as 30 percent less fuel compared to current older switching locomotives. The fuel savings also translates into a 30 percent reduction of greenhouse gas.
At low throttle settings, only one of the three ultra-low emissions diesel engines operates; the other two are shut down. When additional power demand is needed, the second and third diesel engines automatically start and quickly go on-line producing the amount of electrical power required to move rail cars.
When the Genset switcher locomotive is not in use, all diesel engines automatically shut down for fuel conservation and emissions reductions. The glycol-coolant systems will protect the engines at temperatures of 20 degrees F. Each engine will occasionally, and independently, restart automatically during shut downs to circulate coolant so that the internal engine systems are protected.
The Genset locomotive is able to pull more rail cars at low speeds than other yard locomotives because the electric, or "traction," motors are independently powered and controlled, giving it superior adhesion compared to a typical locomotive with series-parallel motor connections.
Locomotives that operate in rail yards are used to sort rail cars by destination for outbound trains.